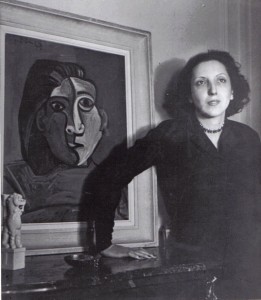 Uruguayan poet, editor and arts patron Susana Soca in front of her portrait by Picasso, photo André Ostier, Paris, 1947, Coll. J. Alvarez Márquez
In the 1940s, Uruguay was sufficiently open, prosperous and democratic to be able to accept and to integrate these new citizens and their avant-garde ideas. Their new ideas were in sync with the emerging artistic temperament in the country. Artists and intellectuals who had recently arrived from Europe collaborated with the local artistic and intellectual scene. Uruguayans who lived and worked in Europe (as for example the constructivist painter Joaquín Torres García, whom Jeanne Mandello met and photographed) returned to Uruguay with innovative ideas and techniques. These artists and intellectuals found common ground with the exiles from Europe and together contributed to the emergence of modern artistic and intellectual movements in Uruguay, adapted to the national and South-American context.[1] In contrast to the more staid and institutional Uruguayan art, more independent currents appeared, which accompanied the democratic movement and wished to dissociate themselves from the patriotic imaginary. This transition towards an independent and contemporary art was greatly helped by Susana Soca, the Uruguayan poetess and patron of the arts, who returned to Montevideo in 1948 after having lived many years in Paris. From the 1950s onwards, "in the field of thought and in the collective spirit, that climate was favored, furthermore, by the end of the war – a situation which impulsed the model of a liberal and cosmopolitan intelligentsia, open to the new realities of the world"[2]. This was an environment to which exiles like Jeanne Mandello or her compatriot Grete Stern in Argentina greatly contributed. It is evident that the two groups, "exiles" and "locals" mutually benefitted from this cultural transfer, a phenomenon generally characterizing emigration movements.
In this context, the French influence was particularly welcome and appreciated. In the words of Uruguayan journalist Hugo Rocha: "You see, at that time, the main international cultural influence still came from France. We were very familiar with French thought, literature and philosophy. French was the main foreign language we studied in high school. […]"[3]
Portraits of Uruguayan artist Joaquín Torres García and French-Uruguayan poet Jules Supervielle, 1940s
Since Jeanne and Arno presented themselves as French, they could rapidly and easily exhibit their work in Montevideo. Besides Joaquín Torres García, Jeanne met and portrayed the poets Rafael Alberti and Jules Supervielle and photographed the "high society" of Montevideo and Punta del Este. The influential Argentine painter, essayist and art critic Julio Payró promoted their work and in 1953 the émigré journalist J. Hellmut Freund published an article on the Mandellos in Susana Soca's art magazine Entregas de la Licorna. Jeanne's work was in tune with the progressive and modernist urban and artistic developments emerging at that moment in Montevideo and in Uruguay. This can be seen for example in her photograph of the workers constructing Montevideo's new architecture faculty, inaugurated in 1948 and designed by the architect Roman Fresnedo Siri who cited his main influences as being the Bauhaus movement and Frank Lloyd Wright.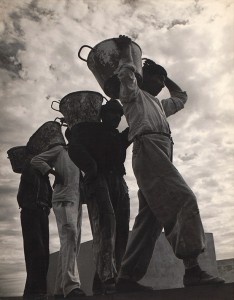 Workers building the new Architecture Faculty, Montevideo, 1945
---