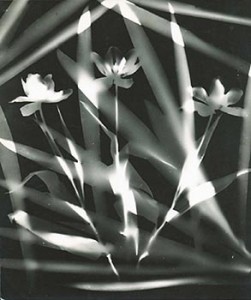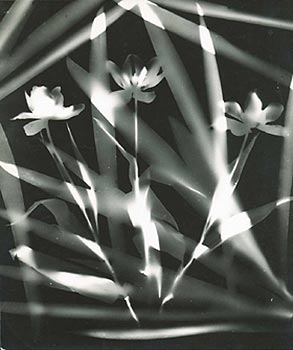 Composition (photogram), approx. 1952
Jeanne Mandello, a Jewish woman forced to flee Nazi Germany and occupied France, like so many others of her generation, did not achieve, due to historical circumstances, her deserved recognition as an artist.[1]
Most of her early work has been lost. The studio she and her husband Arno had in Paris was emptied and pillaged by the National Socialists in 1942, its negatives and archives probably destroyed.
Additionally, after her divorce from Arno Grünebaum, she left him all of their photographic equipment as well as the right to use the trademark name "Mandello", which he continued to do upon his return to Paris in the 1950s. Jeanne thus lost once again her business tools.[2]
The loss of her entire early work explains why Jeanne could not contribute anything to the important exhibition on women photographers of the Weimar Republic: "Fotografinnen der Weimarer Republik. Fotografieren hieß teilnehmen" in Essen's Museum Folkwang in 1994.
However, she was "rediscovered" at this occasion and in 1997 her work was shown in the exhibition "Mandello. Fotografías 1928-1997" in Barcelona.
The 2012 exhibit "Imágenes de una fotógrafa exiliada" held in Montevideo presented for the first time in more than sixty years the photographs of Jeanne and Arno Mandello taken in Uruguay at their "place of production", along with some photos saved from France and others taken in her later life in Spain. The exhibition then travelled to Uruguayan cities Paysandú and Salto and the Alliances françaises in Buenos Aires, Mendoza, Neuquen and San Carlos de Bariloche (Argentina) up to the end of 2013.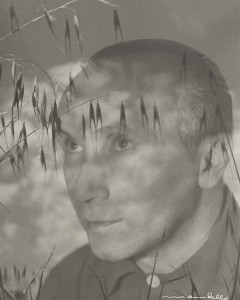 Vaclav Veltchek (photomontage), 1948
Jeanne Mandello died in Barcelona in 2001, at the age of 94 years.
Trained in Germany, influenced by the French avant-garde movements of the 1930s, she leaves a legacy as a pioneer of early 20th century photography done by women, and despite the hardships she had to endure, freely putting into practice her ideas about her profession and her esthetics as a photographer.
Sandra Nagel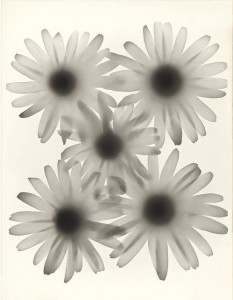 Daisy Flowers, Montevideo, 1950
---
[1]As was the case for so many artists of this "forgotten generation", such as the painters Anton Räderscheidt and Leo Maillet.
[2] In Paris, Arno Mandello (who kept his « married name » until the end of his life), whilst still working as a photographer, began to paint. In 1968 he left Paris with his partner Helen Ashbee, a painter, and moved to Italy where he died in 1990.
■
2013 /
About
/ Last Updated June 3, 2014 by admin / Tags:
Alliance française Montevideo
,
avantgarde 20th century photography
,
Bauhaus
,
Fotografinnen der Weimarer Republik
,
German women photographers
,
Imágenes de una fotógrafa exiliada
,
Jeanne Mandello
,
Jewish women photographers
,
lost art
,
Museum Folkwang
,
pioneer woman photographer
,
Sandra Nagel
,
women photographers