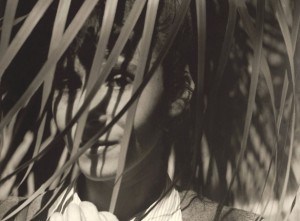 In Montevideo, Jeanne started her career for the third time – and succeeded once again. She was extremely resilient, as one of her main personal skills was her capacity to rebound and to overcome life's trials by drawing on her creative skills.
Jeanne and Arno loved Montevideo and Uruguay. Jeanne would comment later on that "I have never met such kind and obliging people as the people in Uruguay. […] Everybody helped us."[1] She quickly made contacts and became known as a photographer. She acquired a unique reputation for her emphatic portraits and her avant-garde use of lighting and techniques such as solarisation, i.e. very strong overexposure, and photograms (direct exposure of photosensitive surfaces without using a camera).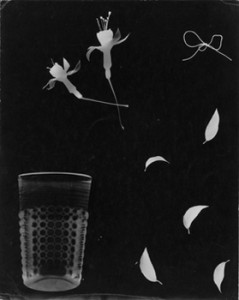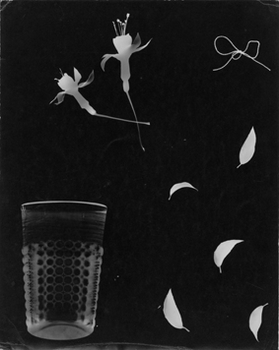 Untitled photogram
In 1943, she had her first exhibit, of children's portraits, and the couple started working for the tourism magazine Turismo en el Uruguay.
"We could live from our work. Sometimes better, sometimes worse, but we had lots of friends… […] We threw many parties and many important people came to our house. […] It was all very simple, for example we didn't have a big table and so we just put a door on top of two stools in the garden and that's how we ate. We were friends with the French consul and all the people in favour of De Gaulle. […] In summer everybody went to Punta del Este, the most elegant seaside resort, surrounded by woods. […] Every summer we were in Punta del Este for three months to take photographs. The first year was horrible. We stayed in a kind of hut where we slept and developed our photos, but it didn't matter. From a certain moment on we too belonged to the good society and they treated us as part of it; we had to play the part although on the other hand we had very little money."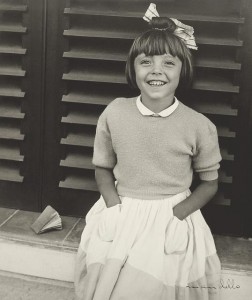 Aitana Alberti, Punta del Este, 1947
---
[1] Catalogue Mandello, Fotografías 1928-1997, p. 15
■
2013 /
About
/ Last Updated October 5, 2013 by admin / Tags:
Aitana Alberti
,
exiled artist in Uruguay
,
German-Jewish photographer in Montevideo
,
Jeanne Mandello
,
Jewish women photographers
,
Leica
,
Montevideo
,
photogram
,
portrait photography
,
Punta del Este
,
Rafael Alberti
,
solarisation
,
solarization
,
Turismo en el Uruguay