Johanna Mandello (she later changed her name from the German-sounding Johanna to the French Jeanne) was born in 1907 in Frankfurt, Germany, into a relatively progressive, secular and art-loving Jewish family. In the 1920s she studied photography at the Lette-Haus in Berlin, an institution set up in 1866 for the professional training of women and where photography was taught from 1890.
"Well, the ambiance in Berlin was great. […] The things that happened in Berlin did not happen in any other city, in all fields, be it in culture, theatre… […] The best concerts and the best exhibitions… everything in relation with art was fantastic in Berlin. […]
[In school], we learnt photography of course. I believe the biggest camera was a 24×30. I had a bellows camera and a cloth to cover up – everything was done on tripods – and lenses, but I think they could already be changed. Normally we photographed with 13×18 cameras. […] I believe I had a 13×18 and when I returned the second time to the "Lette-Haus", I had a Leica […] This was something sensational. […] The first photographs we took were of plaster busts, white plaster – and I can remember a Voltaire. We had to light them in different ways. At the time we still had studios with windows, with glass ceilings and curtains. Artificial light came later. We had to photograph the Voltaire until he came out of our ears, always with different light, from different views and angles and later they explained to us how the light had to fall and such things. One thing was very important: they trained us to see everything in black and white without colours. When you were in the street, you saw everything in colour and you had to adapt it to white, black and greys, and after some time we did this automatically. […] We had classes in photography, developing – we also learned how to prepare the plates; they gave us glass plates and we had to prepare the emulsion – developing the positives, developing the negatives, preparing the developing solution, we were taught about chemical products, lots and lots of retouching of positives, lots and lots of retouching of negatives […] and we also had drawing lessons. (….) I studied two years at the "Lette-Haus" and I trained for one year with Dr Paul Wolff in Frankfurt [a precursor of Leica photography who would later become involved with the Nazi regime]."[1]
She then opened her own photography studio in Frankfurt. During the Weimar Republic, she was, along with Grete Stern, Ellen Auerbach, Ilse Bing, Gisèle Freund, Marianne Breslauer and certainly inspired by Germaine Krull and others, one of the female pioneers of modern photography. At that time, it was difficult for women to work and to gain recognition as artists. Photography, and in particular fashion photography, provided an entree into the art world. The work of these women photographers was influenced by the Bauhaus school in Germany. They experimented very early on with the Leica, the first small format camera. The Leica was light and easy to transport, thus allowing photographers a new form of freedom. Jeanne was a "femme nouvelle"[2], for whom being a photographer meant an independent life and an active participation in society.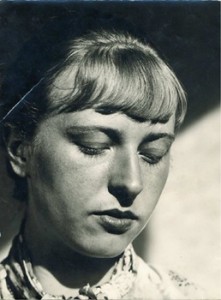 Hilde Köster, Ascona, approx. 1933
---
[1]All quotes from Jeanne Mandello are extracts of Mercedes Valdivieso: "Biografía", in the exhibition catalogue Mandello. Fotografías 1928-1997, Barcelona, 1997, pages 7-21, and are excerpts of a series of interviews conducted by Mercedes Valdivieso in June 1997.
[2] Ute Eskildsen, "Prólogo", in the catalogue Mandello. Fotografías 1928-1997, Barcelona, 1997, p. 4
■
2013 /
About
/ Last Updated October 5, 2013 by admin / Tags:
Berlin 1920s
,
Ellen Auerbach
,
female pioneer modern photography
,
Germaine Krull
,
Gisèle Freund
,
Grete Stern
,
Ilse Bing
,
Jeanne Mandello
,
Jewish woman photographer
,
Johanna Mandello
,
Leica
,
Lette-Haus
,
Marianne Breslauer
,
woman photographer Frankfurt